Cradlewise Reviews
Cradlewise reviews are in! This smart crib is the ultimate sleep solution for exhausted parents
By Cradlewise Staff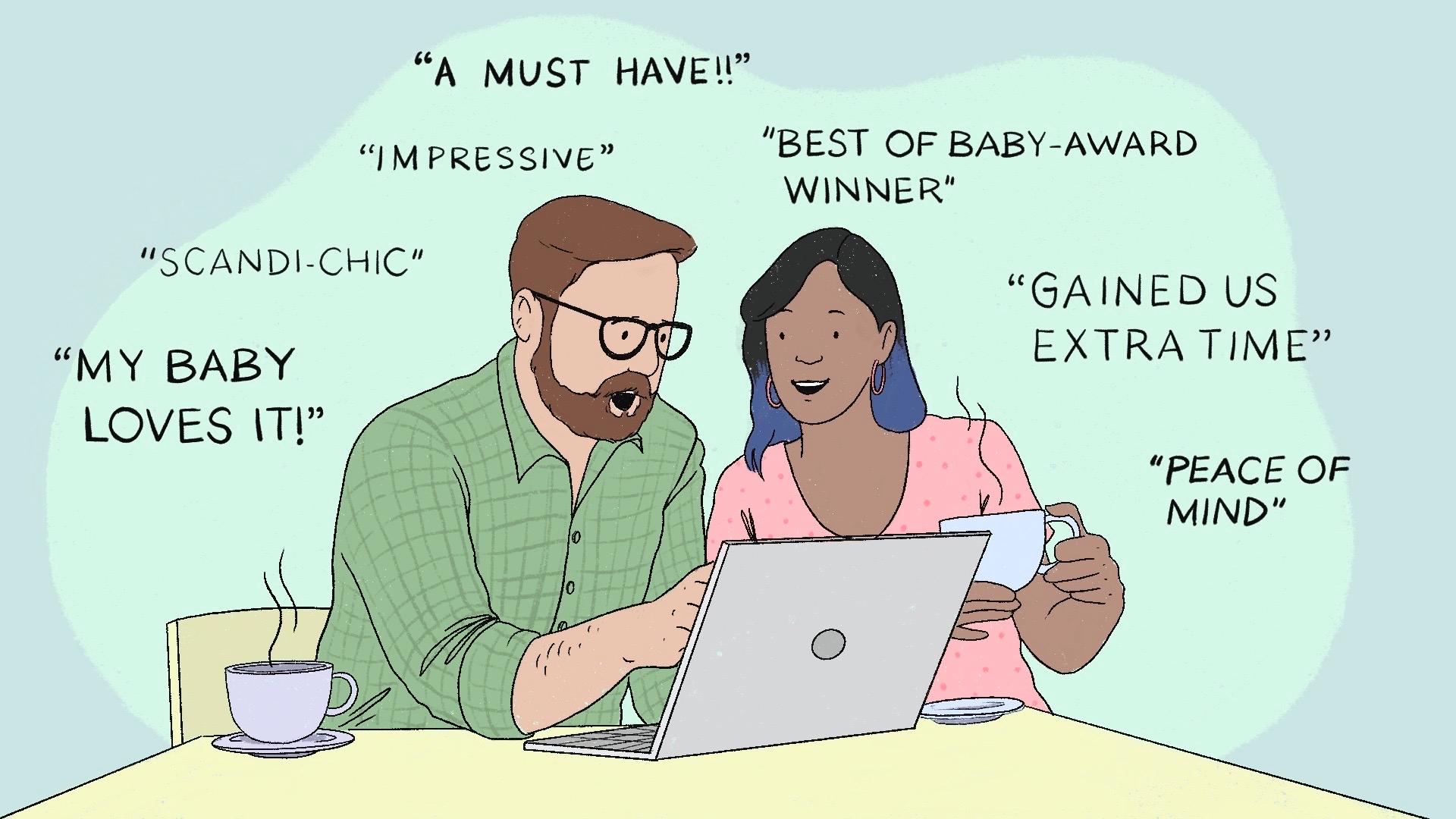 Cradlewise Reviews
Cradlewise reviews are in! This smart crib is the ultimate sleep solution for exhausted parents
By Cradlewise Staff
In a world overflowing with options, selecting the perfect crib for your little one can be a daunting task. There are countless brands of baby cribs out there, each promising the utmost comfort and safety for your precious bundle of joy. When it comes to your baby's sleep, you need a solution you can trust.
That's where Cradlewise comes into the picture—a brand built by parents, trusted by parents.
To help you make an informed decision, we've sifted through reviews of experts who have benefitted from using Cradlewise. You can take a look at what writers from publications like The Bump, Babylist, Wirecutter, PureWow, Everymom, Mommyhood101, and Fast Company are saying.
We've also included feedback from parents who made the decision to invest in sleep with Cradlewise. These community members were once in your shoes–trying to decide which crib to entrust with their little one–and their descriptions of the Cradlewise experience may help you make the best decision for your family.
Cradlewise smart crib reviews in the press
Babylist

"A crib that's not only motion-activated but smart enough to learn your baby's schedule and soothe them back to sleep when needed? The future of smart cribs is here, and it's Cradlewise. This completely unique sleep solution is a bassinet, a crib and a baby monitor all rolled into one (very) smart package."
Read more.
TIME
Awarded one of TIME's Best Inventions of 2020, "Most self-rocking cradles respond when a baby cries, but Cradlewise uses sensors to detect a child's first stirrings. Based on the baby's sleep schedule, the crib then determines whether to soothe them back to sleep with bouncing motions or to let them wake up."
Mommyhood101
"[S]erious bang for the buck. The versatility and quality are second-to-none and for the cost, you're getting a fully featured bassinet, crib, baby monitor, and sound machine in one integrated package!"
Fast Company
Awarded an honorable mention in the Next Big Things in Tech Awards, "For creating a self-bouncing bassinet to soothe crying babies—and help exhausted parents."
House Beautiful
Awarded House Beautiful's 2023 Live Better Awards, "Cradlewise was kind enough to send me their smart crib to test for our 2023 Live Better Awards, and I was a little worried that I was the wrong audience for it altogether. But having it has been a win for our whole family. When the baby sleeps, the toddler sleeps, we sleep, and somehow four people fit comfortably in this tiny apartment."
The Everymom
"Cradlewise senses and learns your baby's sleep patterns to recognize when it is still time to sleep and when it is OK to wake. It starts soothing before your baby gets distressed—meaning, no noise from baby's cries. Instead, it spots wake-up signs when baby is in the 'quiet phase' of waking up—very still but awake and taking in the environment"
PureWow
Happy Kid Award-winner, 2023, in the Happy Home category, "Its Scandi-chic design is just; the Cradlewise Smart Crib has earned rave reviews for its gentle (and quiet) bouncing motion, which lulls babies to sleep. There's a built-in baby monitor, and it converts from bassinet to crib, so you get more than a few months' use out of it—which puts it ahead of another pricey product which shall go unnamed."
The Bump
"Equipped with smart technology to soothe baby and a built-in monitor. It's no wonder this crib is a Best of Baby award-winner!"
"A smart bassinet, crib and baby monitor rolled into one stylish package, the Cradlewise is a triple threat….Granted, it's an investment, but one that's beyond worth it."
Wirecutter
"The Cradlewise crib's app is excellent; it's intuitive and simple to use, and it makes customization easy for things like dictating the bassinet's responsiveness, length of bouncing, and white noise options."
The Cut
"While this crib is definitely a splurge, it has everything a new mom could possibly want. It converts from a bassinet to a crib for 24 months of use, and it has a baby monitor, soothing sound machine, and automatic bouncing motion built in. With the accompanying app, it tracks the baby's sleep schedule, monitors video, and gives notifications when your little one is stirring and needs to be tended to. Mom will sleep so much better, and the gift of rest is priceless, right?"
Motherly
"You know what's actually priceless? A good night's sleep. For new parents, the innovative Cradlewise smart cradle provides just that. Launched just last year it's already proven to be one of the most impressive pieces of baby gear on the market."
Pregnant Chicken
"The standout for me is that it's a crib vs. a bassinet, so you can use it for a longer period of time (as soon as your baby starts rolling, they have to come out of a bassinet because they can get on their knees and yeet themselves out of there.) It's not shocking that it's pricey but I would have sawed off my right arm to get four consecutive hours of sleep when I had a newborn, so I would have been the target market for this."
Milk Drunk
"As a first-time mom, I've loved using the Cradlewise for our daughter's naps—it rocks her to sleep if she wakes up early which allows Mom to get things done around the house (or, you know, actually get a bathroom break)."
Innovation & Tech Today
"The majority of functions are software-driven, allowing for performance updates and added features through regular updates. During my three months of testing, numerous features were added, including a wonderful sleep status update at the top of the screen telling you just how long your little one has been asleep or awake….[T]his product isn't just about helping your child sleep; it's for your peace of mind."
Poppylist
"We can't say enough good things about this smart crib, and our Poppylist parents agree. Everyone in the house gets more sleep with the Cradlewise, making it an essential must-have baby registry item."
"The most immediate pro worth sharing is the bounce feature of the Cradlewise. Yes— it works, and my baby loves it! Since Zoey was 13 weeks, she's been averaging 6.5 hours of sleep in the Cradlewise."
"Cradlewise is the only crib on the market that automatically soothes your baby BEFORE they cry. What's not to love about a built-in night nurse?"
Upside Dad
"Cradlewise is THE ONLY bassinet out there that seems like it's gonna give SNOO a run for its money. It packs more features and costs less."
Read more.
Byrdie
"There are smart cribs, and then there are really smart cribs — and this one by Cradlewise is surely the latter. It's the only crib on the market that can help soothe babies back to sleep before they start crying. As for what else it can do, the list is expansive: track sleep patterns, provide white, pink, and brown noise (yes, it's a thing!), send app notifications when baby needs attention, and more…How cool is that?"
TTPM
"Looking for a crib that will help rock your baby to sleep while giving you peace of mind? Then look no further than the Cradlewise Convertible Smart Crib. For ages 0 to 24 months, this incredible sleep structure is a bassinet, crib, and monitor all in one."
Men's Health
"Give her the gift of extra sleep with this smart crib that automatically bounces and soothes her newborn to sleep. Plus, it comes with a baby monitor so she can only keep tabs on her baby."
TechSesh
"Will I ever sleep? If you've asked yourself this question lately, I'm here to tell you two things. One, you're not alone. And there are solutions. Cradlewise is a smart bassinet, crib and baby monitor rolled into one stylish package. It's a triple threat. This innovative device comes with a removable bassinet attachment, meaning you can use it from birth up to the time the baby hits the 24-month mark."
Adaptable Mama
"If you think about all you're getting for freaking expensive baby gear, Cradlewise seems to be more worth it than the SNOO. With SNOO, you only get a smart bassinet. With Cradlewise, you get a smart bassinet + baby monitor + crib!"
Broadcast segments
"It's the ultimate crib and a must-have for new parents in 2023"— Dawn McCarthy, Beauty and Lifestyle Advisor at "LIVE IN THE BAY"
"Cradewise helps you save two hours of sleep each night. Sign me up!" — Jessica Naziri, Tech Reviewer, CBS News Los Angeles.
What our community has to say about Cradlewise
Bachelor Nation
"If your baby/toddler doesn't go to sleep easily or won't sleep through the night when it's age-appropriate, get a Cradlewise. Wish I knew about it a year ago."
— Ashley Iaconetti Haibon
Pamela and TJ Hobby, parents of Buster and Honey
"The fact that we watched a live demo, and we could ask any questions that we needed to. At one time, TJ and I were just demo attendees. We trusted Radhika (co-founder and CEO of Cradlewise) and the product. I don't have any family close by; all of my family live in Oklahoma and Kansas. And so I leaned on Cradlewise as that extra pair of hands since day one, and now It's helping me with baby two. I'm getting even more sleep with the second baby than I was with the first, which is remarkable."
Read more: How Cradlewise is helping a mom of 2 under 2 get more sleep
Emmy-nominated actor and producer Shanti Lowry, new mom to baby Elora
"To me, Cradlewise was a full system—it was everything in one. It addressed all of the issues that I was worried about in one beautiful package. It's got a monitor, and it's got a really smart app that I love. I can be anywhere, and I can check in, change the intensity, change the music, listen to her live, or watch her live from anywhere. And I love that it has customizable music. This just seems like the smartest thing to get because you have the motion, you have the sound, and you have the monitor."

Read more: Shanti Lowry on overcoming infertility, raising a rock star sleeper, and becoming the mother she wants to be.
"We loved that it's everything in one. We didn't need to buy a crib, a bassinet, a monitor and a noise machine, it's all together. Not only will it help to keep the baby asleep, soothed and calm, but it's also that peace of mind of being able to have that monitor to look in on him and know that he's safe." (Melanie)
Read more: Two moms on embracing the mess, madness, and mundane beauty of motherhood.
Lauren and Justin, parents of four kids (used Cradlewise with their youngest child, Sofia)
"We've definitely taken advantage of the auto bounce feature. That has been extremely helpful because, as you know, babies don't always want to connect their sleep cycle. And [auto-bounce] has just made all the difference: Watching her stir and maybe start to wake up on the app, you see that bounce feature come on and you see her relax. It's really gained us extra time during naptime where I can focus on the other kids. We can keep playing or doing what we're doing, and I don't have to jump up to go make sure that she's going to nap for a little bit longer."
Read more: How a mom of 4 uses Cradlewise
JP and Allison, parents to baby Colin Patrick
"I think one way Cradlewise has helped us achieve our sleep goals throughout this first five-month period is the sense of security it gives us at night going to sleep and putting our child down. I think we know that he's taken care of in the best possible way," says JP.
Read more: The Cradlewise sleep recipe that worked for us.
New dad Tao, and his baby Wyatt

"There are very few products that do exactly what is intended and keep working well. Nothing has lived up to the expectations like Cradlewise….So if there's one thing that I would recommend, it's this Cradlewise. It's a total game-changer. "
Read more: As a new dad, I appreciated the support (and extra sleep) Cradlewise gave my family.
Military family Stacey and Evan, parents to baby Armour
"I'm very close with my family, and in that initial month, I felt like I had to let so many people know how Armour was doing. The Cradlewise app took the stress away. Here was an app they could log in to and literally watch Armour sleep. The app meant that I could get the extra rest that I needed too."
Read more: How this military family used Cradlewise as an extra set of helping hands.
Roxann and David, parents of baby Luke
"We were in the hospital for probably seven, eight days, between labor and delivery and then like recovery, so we had a few days without the crib. So once [the baby] came home and the crib was available to use as a tool, it was a palpable change. We could clearly tell that we had something that was really helping with managing sleep for both of us and the baby as well."
Read more: Cradlewise supported me as I recovered from a C-section.
ICU nurse Tina and Joe, parents to baby Jace
"Just being a parent, and then having to go to work as a mom, not being able to get an adequate night's sleep can be kind of detrimental. Not getting enough hours can ultimately hurt us. Everyone's safety benefits from mom getting enough rest. The Cradlewise helps immensely by keeping him asleep and prolonging his sleep time… if I can get a little more sleep, I can be a better mom for him."
Read more: As an ICU nurse + first-time mom, I needed more sleep so this is what I did.
First-time parents Pragnya and Sriram, parents of baby Maya
"The major value that we got was like those night wakings. What would happen as a new mom is every time Maya got up, I would get up as well and pat her down. And that is like every few minutes during the limited sleep time that I was getting and that time was interrupted by me just trying to be there for my baby. But once the crib came in, it allowed us to have more of a continuous night of sleep. So that was a relief in those early months and obviously a continuing source since we realized that the crib could do that."
Read more: My parents watched me become a first-time mom from thousands of miles away
Stay in the know
Sign up to get sleep tips, exciting product updates, and special offers right into your inbox.