Product
How to customize Cradlewise settings for your baby
By Cradlewise Staff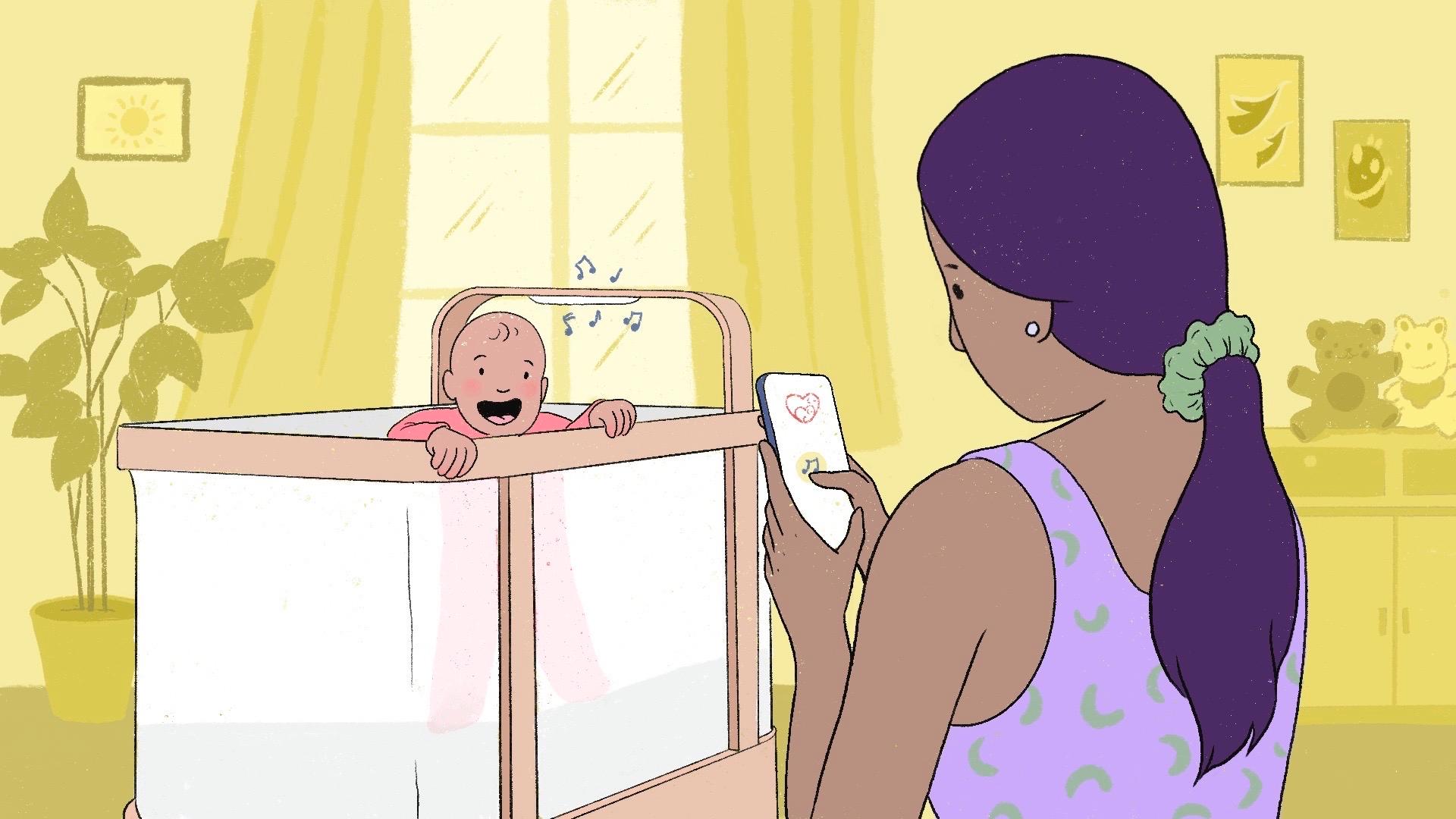 Product
How to customize Cradlewise settings for your baby
By Cradlewise Staff
Navigating parenthood is like embarking on a journey with no map—each day brings new discoveries and lessons. And you learn new lessons as your baby grows, especially where sleep is concerned.
As your baby's sleep patterns evolve, so should the tools that support their restful nights.
Whether you have a tiny wiggle-worm who loves to move around in their sleep or a little one who needs the gentlest lullabies to doze off, Cradlewise's customizable settings are here to cater to every nuance of your baby's sleep journey. Not only do babies have their unique preferences, but so do you as a parent.
Here's your opportunity to unlock the full potential of your smart crib. Let's dive into understanding how you can customize different Cradlewise settings for your little one.
1. Sensitivity
We know that babies have diverse sleep habits, and some may be more active during their slumber than others.
To customize the crib, Cradlewise offers a unique "sensitivity" setting. With this feature, you can control how often and quickly the cradle responds to your baby's sleep disturbances.
For babies under six months: You may want to keep the crib sensitivity between medium to high when your baby is less than six months old because when they are that little, and they are stirring or moving a lot, it means that they are about to wake up.
For babies that frequently move during sleep: If your baby frequently moves a lot during sleep, you could turn down Cradlewise's sensitivity and the crib will only respond if your little one moves for a prolonged period of time.
Ready to help your baby become more sleep-independent? Slowly reduce the crib sensitivity level every two weeks or so until your little one becomes acclimated to self-soothing themselves to sleep.
Regardless of age or stage, your baby may need more support when going through sleep regressions, teething, or illness. For this time when they might need a little extra TLC, you can also increase the crib sensitivity.
To adjust the crib sensitivity, in the Cradlewise app navigate to: Settings > Crib > Bounce (Auto mode should be on) > Adjust the crib sensitivity by sliding the scale from low to high, as per your preference.
You can find more information about this feature here.
2. Gesture to start/stop
As a parent, you already juggle a lot of different things and responsibilities. You don't want to juggle putting your baby in their crib while holding your mobile phone to start or stop the crib.
The biggest relief that gesture control brings parents is being able to be hands-free when putting their little one in the crib—Gesture control allows you to turn bounce on and off through the monitor arc on your Cradlewise smart crib, without having to use your phone or Cradlewise app.
To adjust gesture control, in the Cradlewise app navigate to: Settings > Crib > Gestures > Enable Start or Stop.
Within 'Gestures' there are two options:
Start Bounce: This will allow you to manually start the crib by bouncing the crib three to four times. This setting is enabled by default.

Stop Bounce: This will allow you to manually stop the crib by bouncing the crib three to four times. This setting is disabled by default.
Customizing gesture control settings if you have an older baby
With this setting, a lot of parents wonder "Can my baby accidentally activate gesture controls?"
If you toggle on "Stop Bounce," your baby might be able to turn it off by tapping on the monitor arc or rails. The crib will stop bouncing gradually rather than suddenly stop, and it won't pose any danger to your little one.
3. Super gentle bounce mode
Super gentle bounce restricts bounce intensity to the lowest level.
If the bounce mode is set to "Auto," the cradle will bounce with a "super gentle" intensity once your baby goes to sleep. In "Super gentle bounce," the crib has minimum bounce.
The bounce intensity will not go higher than the minimum in this setting, even after the baby stirs/wakes up.
To enable the Super gentle bounce mode, in the Cradlewise app navigate to: Settings > Crib > Bounce > Toggle on the "Super gentle bounce" option.
4. Auto sound customization
Cradlewise's latest updates bring advanced auto sound customization features, which are going to make your baby's sleep an even better experience.
Auto volume limit
Our latest update fine-tunes the Auto mode of the crib's sound, offering a user-friendly and baby-comfort-centered experience. 💛
The white noise volume adjusts automatically based on the baby's sleep state, providing comfort when needed. The update also improves the gradual volume changes during soothing, providing a more gentle and calming experience.
To enable Auto Volume Limit, in the Cradlewise app navigate to: Settings > Crib > Sound > Auto Volume Limit > Slide the volume between 0 to Max, based on your baby's preference.
This feature was added based on the ideas and feedback that came straight from parents like you!
We've also introduced volume limit caps in auto sound mode, which will give you greater control over white noise volume, allowing you to find the perfect soothing level for your baby.
Stop sound after the baby falls asleep
In auto mode, the 'Stop sound after baby falls asleep' setting is toggled on by default. However, a lot of parents prefer to keep the white noise "On" at all times and not just during soothing. But if you want the sound to continue after your little one falls asleep, we've got you covered!
To continue sound after the baby falls asleep, in the Cradlewise app navigate to: Settings > Crib > Sound > Toggle off "Stop when baby falls asleep."
5. Notifications settings
While knowing what your baby is up to when you're away is great, sometimes the crib can notify you of every little movement of your baby—especially every time they stir. And this can get a little overwhelming when you're working or doing other things.
But the good news is that you can control these notifications.
To easily toggle off any notifications, in the Cradlewise app navigate to: Settings > Account Name > Notifications.
We're also working on an upcoming design revamp that simplifies viewing, categorizing, and deleting alerts.
6. Customized sleep tracks
Imagine having tailor-made sleep tracks integrated into your baby's crib!
With Cradlewise, this becomes true. Even more remarkable is that you can customize each track according to your baby's age and preferences.
Your Cradlewise comes equipped with a built-in sound machine. You can customize the white, pink, and brown noise sleep tracks by adding layers of different sounds like heartbeat, wind, and rain to them.
To view Sleep Tracks, in the Cradlewise app navigate to: The Sound tab.
To create a custom soundtrack, tap the + sign in the top right-hand corner. Here you can:
– Choose the "color" of the noise (White, Pink, or Brown)
– Overlay with your preferred nature sound (Light Rain, Heavy Rain, Ocean Waves, Soft Breeze).
– Simulate a womb-like ambiance (Heartbeat or Breathing).
– Name your new track and be sure to save it!
7. Spotify (beta feature)
When it comes to music in Cradlewise, you're the DJ to your baby's sleep! Cradlewise allows you to play your tailor-made Spotify playlist for your baby, delivering a symphony of their favorite lullabies, classic nursery rhymes, or whatever helps them get their precious snoozes.
Our Spotify integration feature allows you to turn your cradle into a speaker by enabling you to pair your crib with the Spotify app.
You can curate a Spotify playlist for your little one and can play them your favorite pop songs, lullabies, nursery rhymes, soothing sounds, or whatever they're into. 📣
To enable Spotify on your Cradlewise app, navigate to: Settings > Crib > Spotify speaker > Enable Spotify speaker
Cradlewise isn't just a crib—it's a partner in your parenting journey. Through each customizable feature, Cradlewise empowers you to create a sleep environment that's as unique as your baby's individuality, making their zzzs in Cradlewise even more special.
Save now, sleep (better) later
Reserve your Cradlewise delivery month early, and save up to $600 on better sleep for the entire family.
Stay in the know
Sign up to get sleep tips, exciting product updates, and special offers right into your inbox.