Cradlewise Reviews
How this military family used Cradlewise as an extra set of helping hands
By Cradlewise Staff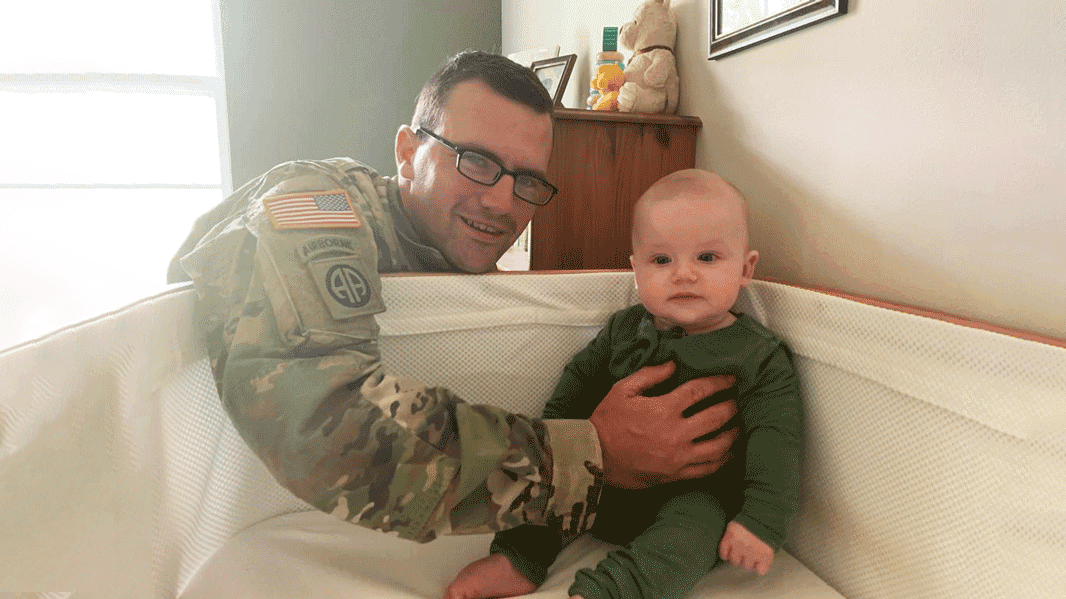 Cradlewise Reviews
How this military family used Cradlewise as an extra set of helping hands
By Cradlewise Staff
Once you become a parent, it's impossible to plan for everything. This is never more apparent than when you're also part of a military family. When Stacey, 30, and her husband Evan, 29, decided they were ready to start their family, Stacey set to work planning what she could around Evan's commitments as a Drill Sergeant in the United States Army.
Originally from Northern Ireland, Stacey met Evan while he was stationed in Germany. Initially, Stacey and Evan planned to take advantage of the unique travel opportunities open to them while living in Europe; and starting a family was not in either of their immediate plans.
The decision to start trying to conceive happened when the couple were next stationed in South Carolina. In preparing for a baby and their parenting journey, Stacey started to research baby essentials that would support their lifestyle as a military family.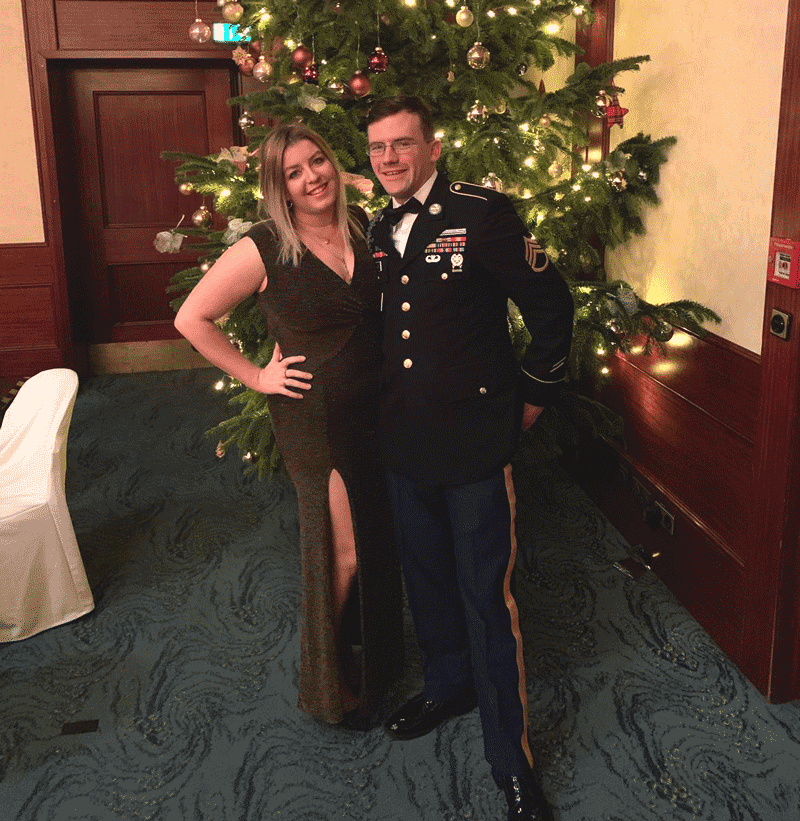 "Whenever I started researching all the things that I might want to have, [I had to consider] the fact that we move every few years. We don't know what size of a home we might move into. When searching for baby gear, I wanted to be minimal—to limit the amount of 'stuff' I might have to try to transport each time we moved. That's what started the search for a crib that had multiple functions," Stacey says.
Stacey instantly gravitated toward Cradlewise Smart Bassinet and Crib, mainly because of its small footprint and the fact that she could use it until her child's second birthday. It would also replace the need to purchase several other pieces of gear, like a monitor and noise machine for baby sleep. Their Cradlewise arrived the day their son Armour (now three months), was born, so they were able to start using it right away.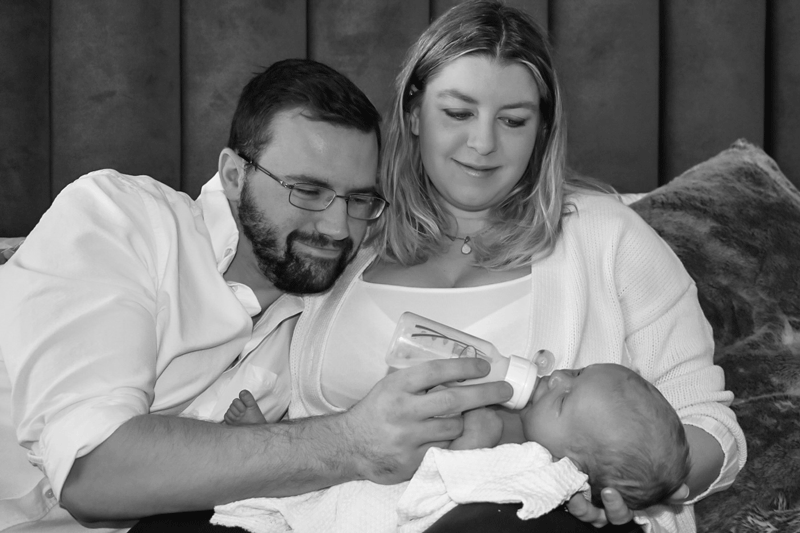 A start you can't plan for
Although she had initially hoped for a home water birth, during labor Armour's position began to concern Stacey's team of midwives, who ultimately transferred her care to a hospital setting.
Despite being nervous in a hospital environment and tired after many hours of labor, Stacey recounts that the medical team at the hospital was supportive in enabling her to achieve a vaginal birth. "I remember not believing the doctors when they told me one more push would bring Armour into the world—I had been laboring for 35 hours at this point—but when he came out, and they set him on my stomach, there was no stopping me from pulling him straight up onto my chest! It was a very emotional experience."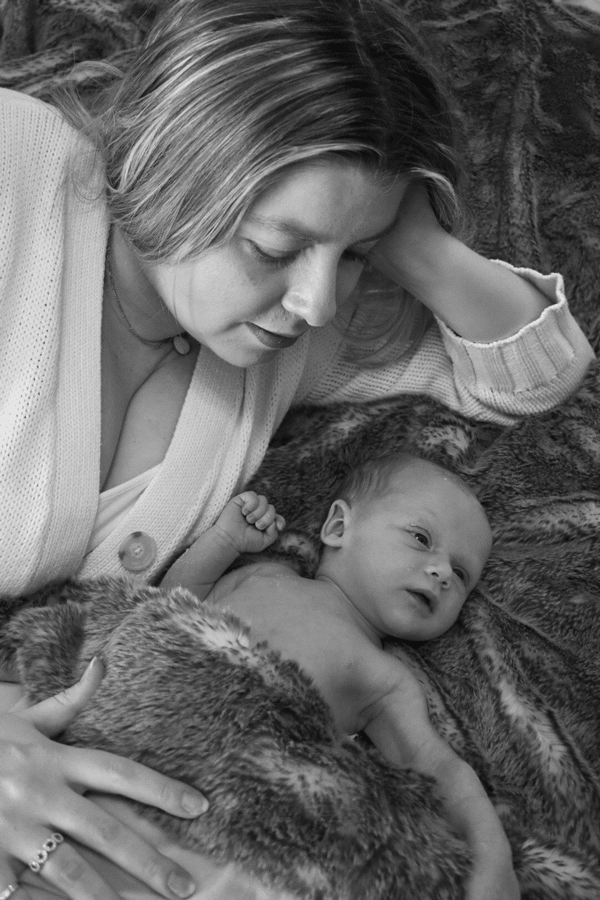 Meeting their son for the first time was equally impactful for Evan. "You hear all the time, 'Oh, nothing prepares you for it.' And I thought, yeah, I get it—it's a big deal," he says. "But then I held him, and I just thought, nothing makes sense anymore. This is insane."
After their hospital stay, Stacey and Evan were keen to introduce Armour to his Nana (grandmother). Stacey's mom had flown over to support Stacey in her last month of pregnancy but (by the time Stacey and Evan left the hospital) had only a little over a week left before she returned to Northern Ireland.
Keeping connected with family and friends
As a new family unit, Stacey and Evan were eager to settle into regular life with their new addition and start their parenting journey. One of the first plans of action was getting their Cradlewise Smart Crib set up, which Evan was relieved turned out to be a painless process.
"A lot of times when you get things you need to assemble, it's evident that [the company] have skimped out on buying quality parts and [you tell yourself], this will be okay, it doesn't have to last forever," Evan says. 'But I'm sure if we want to have five more kids, this Cradlewise crib is going to last us that long. Putting it together, everything fit together very well, and the instructions were actually clear. It was really well done."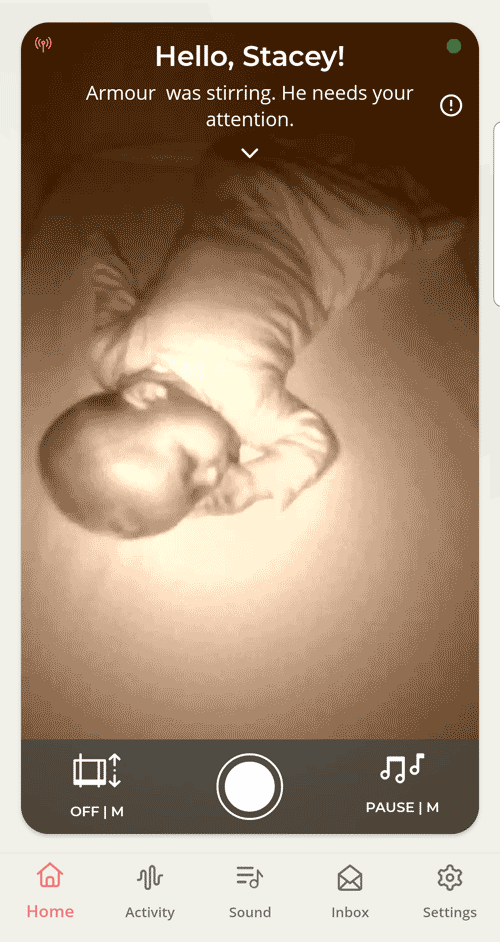 Once they set it up, their Cradlewise Smart Crib also filled another unique need of the family—helping them stay connected with relatives overseas.
"I'm very close with my family, and in that initial month, I felt like I had to let so many people know how Armour was doing. The Cradlewise app took the stress away. Here was an app they could log in to and literally watch Armour sleep. The app meant that I could get the extra rest that I needed too."
The Cradlewise Smart Crib monitor and app were beneficial for Stacey's mom in bridging the five-hour time difference from South Carolina to Northern Ireland.
"My mom will get up for work in the morning in Northern Ireland, but it would be maybe two a.m. with us. As soon as she wakes up every morning, she will open the Cradlewise app and watch it while she is getting ready—she does this every day!" Stacey says.
"Now while working as a Pharmacy technician, the whole Pharmacy team like to check in on Armour. With the phone propped up and the Cradlewise app open, everyone watches Armour sleep, waiting for one of Evan or I to come and get him, which is usually around their lunchtime. They are people I've never met, but they love him all the same. We're traveling back to Northern Ireland at the end of June to visit mom, dad, and other family. I know it will be nice to have my mom's co-workers properly meet Armour for the first time."
Strengthening bonds
The app also helps Evan and Stacey to communicate and stay more connected, despite a challenging schedule.
"I really liked the fact that, as long as I have cell phone service, if I have an extra five minutes at work where I can sit down for a second, I can hop on and check in on him," Evan says. He looks forward to having the app to help him stay connected this September when he'll have to spend a month away from Stacey and Armour for a military school.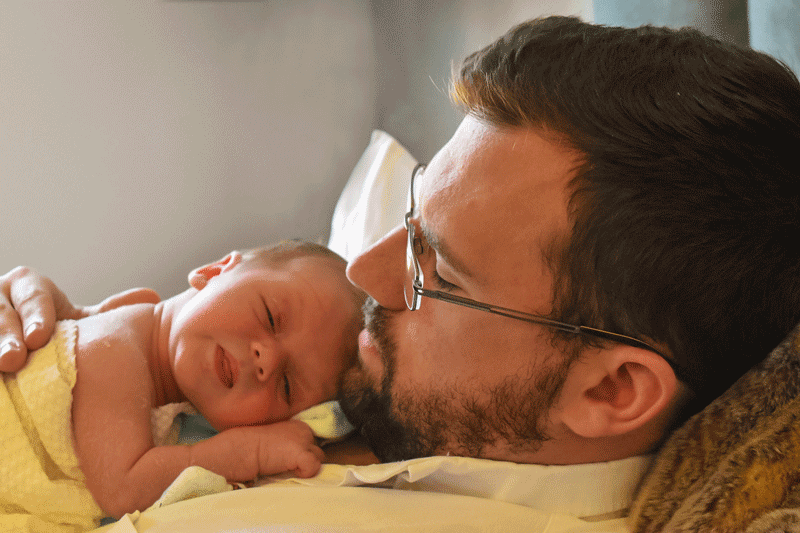 Even more than that, though, the couple credit the app in improving their communication throughout the day without adding more mental stress.
"There were times, especially during the early, sleep-deprived weeks, when everyone [using the app] would be able to know the kind of day that I was having. It would help us even if we had poor communication while away from each other," Stacey says. "Evan could see how often Armour had stirred or fussed, and would know if I'd had a good day—or whether he should bring home McDonald's for dinner with him. And I think it's been nice to have that."
Evan agrees that seeing Stacey in action has given him a whole new respect for her.
"I think the best advice I could give is that you have no idea as a man how difficult it is to be a mom—you have no frame of reference," he says. "Even if you're a single dad, you're not breastfeeding. You didn't give birth. There's a baseline that you just can't understand. So just throw a little extra compassion in there, like, hey, breastfeeding is probably a lot harder than I think it is. And it's both physically and emotionally draining."
Fortunately, Stacey says the information she gets automatically with her app has helped to alleviate some of that new parent anxiety.
"I used to dream about him crying, and I'd wake up thinking that I'd missed him, that I'd slept past when I should have. But I'd be able to check the app and it would literally tell me that I dreamt it," she says.
"Anxiety and worry stop you from getting good rest and a good night's sleep, but the Cradlewise setup fixes so many things that it is worth every penny of the price. You see so many designer cribs, where the entirety of that price tag is in the design. Cradlewise, in my opinion, is prettier than all of those cribs but offers so much more on top of that."
As the family continue to settle into their new roles, they continue to be grateful to Cradlewise for becoming part of their support system. After all, you can't put a price on new parent confidence.
"I think it's important to not be too hard on yourself," Stacey says. "I think one of the nicest things that someone ever said to me is that you're the perfect mom for your baby. And that's so true for everyone. If you have a baby who has issues with sleeping at night, you're the perfect mom to deal with those issues. You'll find a balance that works for you."
Stay in the know
Sign up to get sleep tips, exciting product updates, and special offers right into your inbox.