Product
Gender-neutral nursery decor (that matches your Cradlewise perfectly)
Justine Lorelle LoMonaco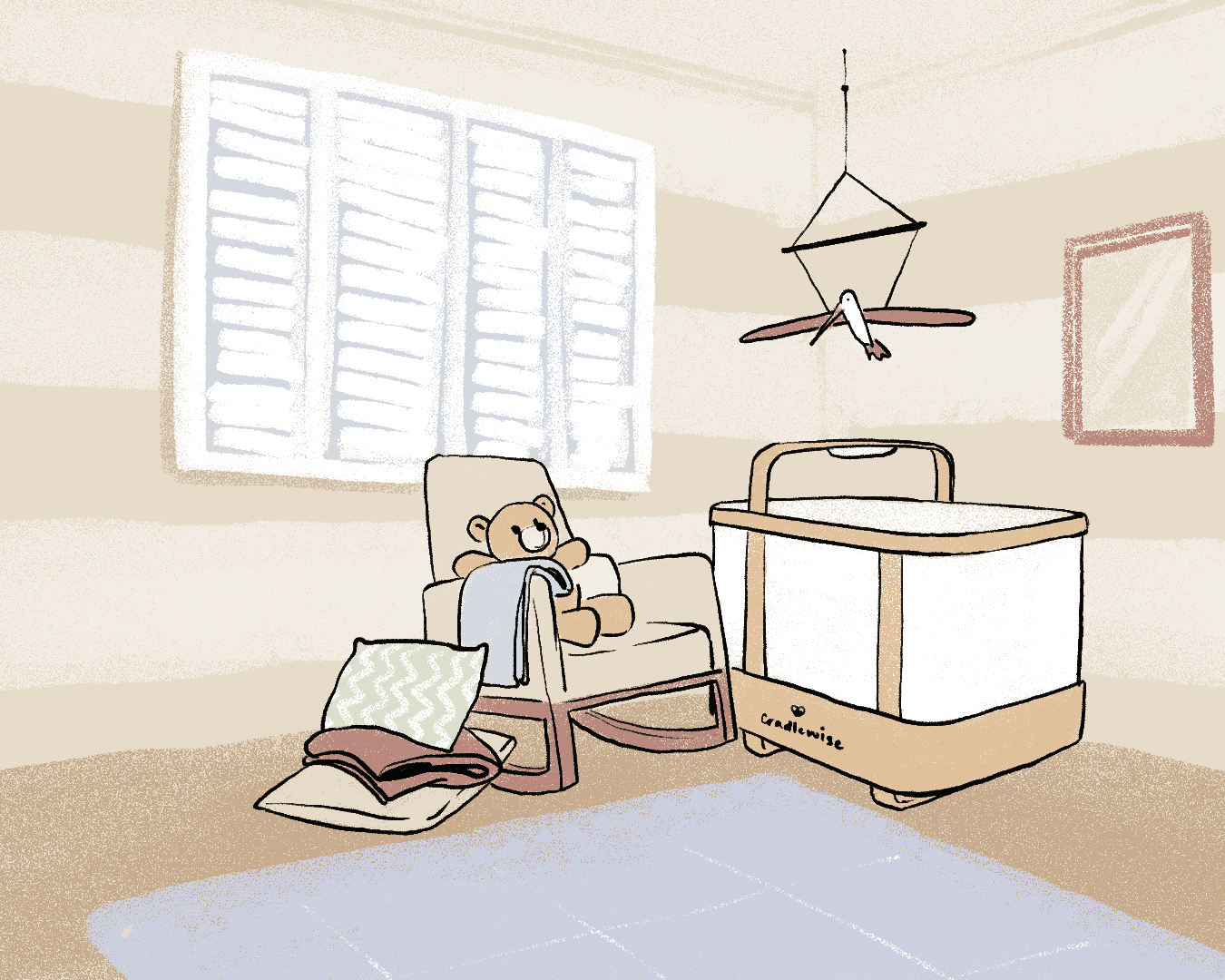 Product
Gender-neutral nursery decor (that matches your Cradlewise perfectly)
Justine Lorelle LoMonaco
The odds are that you've never nested quite so hard as when it came time to put together your baby's nursery. We like to think we made the job a little easier for you, creating a smart bassinet and crib that also pulls triple duty as your sound machine and baby monitor (happy to help!). But, of course, there are still several other nursery items you probably have your eye on.
That's why we've pulled together some of our favorite gender-neutral nursery decor items to complete your baby's space, matching perfectly with your Cradlewise.
Here's what to keep in mind when shopping for nursery decor
Materials matter.
Whether it's a non-toxic, BPA-free mat or a baby gym with medical-grade silicone teething parts, remember that when it's in your little one's room, there's no guarantee it won't end up in your little one's mouth. Check product descriptions to ensure the products are made from (and painted with) ingredients you feel good about having.
Think beyond the product's immediate purpose.
Can you use that swaddle storage basket to store toys later on? Will your changing pad stand the test of time and be used for subsequent siblings? Nursery items can be pricey, but it's worth every penny if higher quality means more extended use.
Neutral doesn't have to be boring.
Textures, finishes, and subtle patterns can all fit into a neutral decor plan without sacrificing the wonder and whimsy we all love in a child's room. Start with your overall color scheme, and then look for pieces that bring in personality and depth within that palette. And remember—a little pop of color can make all the difference!
Here are our favorite neutral decor ideas for your baby's nursery
1. An easy-to-clean changing pad
Is it weird for a changing pad to be one of our favorite nursery purchases of all time? If loving a perfectly neutral, super comfortable, and incredibly easy-to-wipe-after-the-inevitable-diaper-blowout changing pad is wrong, we don't want to be right. Even better, this sleek Peanut Diaper Changer from Keekaroo can turn any surface into a changing table, saving you from needing to buy a piece of furniture your child will outgrow in a couple of years.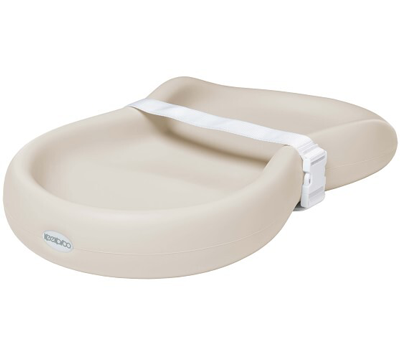 2. A workhorse diaper caddy
Not only is this flexible oatmeal-hued diaper caddy from Parker Baby Co. ideal for a neutral nursery, but the real genius of it is also in the streamlined design. Removable inserts and outside pockets mean you have space for virtually all of your diapering accouterments (and, believe us, there are a lot of them). The minimal felt design means you can repurpose it down the line to store toys, toiletries, or whatever in your life needs stylish storing.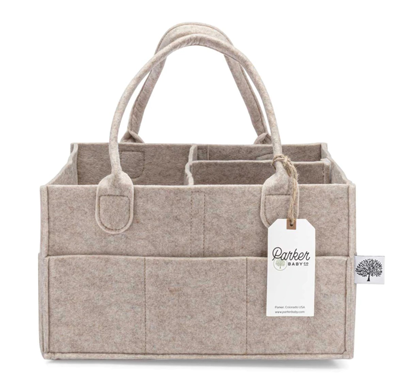 3. A flexible nursery mat
Finding the right floor covering for a nursery can be a struggle. You want something easy to clean, soft enough for tummy time, but won't be an eyesore in your decor. The Emery Rainbow Mat checks every box—and then some. Not only is its sweet rainbow pattern just cute enough for a kids' room, but the interlocking design means you can shape it to fit a nursery now and play space in the living room down the line. And when it comes time to clean? The waterproof mat wipes down in seconds.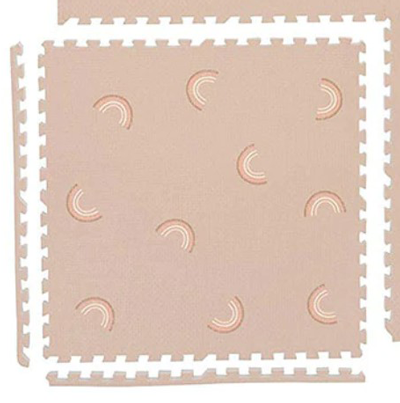 4. A cozy play pad
Want something with a little more snuggle factor? The Pehr Playmat will quickly become your little one's favorite tummy time hangout. The soft, cotton pad packs up easily for peekaboo at Grandma's and can be tossed in the washing machine for easy cleaning, so you're ready for the next playtime. And those charming neutral patterns? Be still our hearts. 😍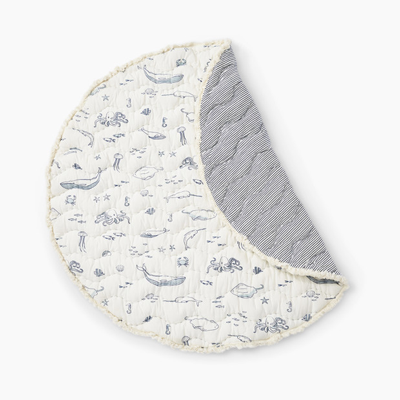 5. A neutral wooden baby gym
Your little one has to get their workout in, too! We love this foldable Wooden Baby Gym equipped with three wooden and three soft toys (though it's easily customizable with whatever play thing catches your baby's eye). Position over a play mat or your baby's bouncing seat, and then simply fold it up and tuck it away when playtime is over.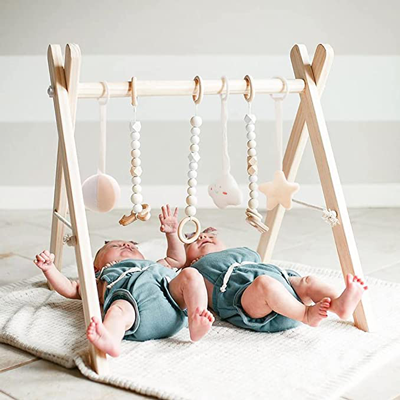 6. Wooden blocks that double as decor
These gorgeous Montessori Blocks may look like just the toy of your neutral-loving dreams, but our favorite thing about them is that they also look beautiful displayed in your child's nursery. (Or, let's be honest—strewn all over the floor.) We especially love the 6-piece Animal Set with their little boat block for encouraging hand-eye coordination while your little one plays.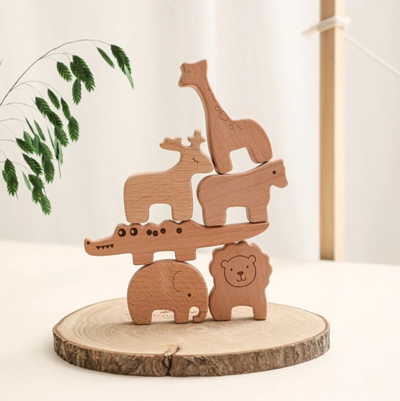 7. Neutral nursery art
This Hand Made Cotton Wall Art is a beautiful textural decor piece in your child's nursery, and the neutral, timeless design makes it easy to transfer to a big kid room—or any room in your home—later on. Made from 100% cotton, it would make the perfect finishing touch on a wall or above your child's dresser. (Be sure to hang it out of reach of your little one's crib for safety.)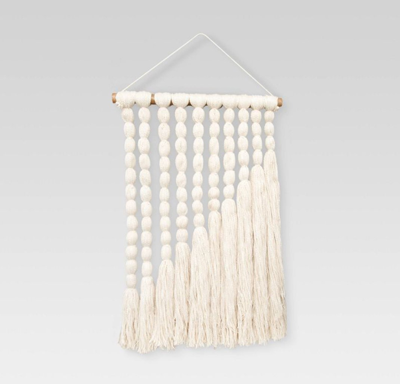 The bottom line
Neutral decor pieces not only make a statement now, but they're also easy to repurpose later as your child grows or in other parts of your home. Because becoming a parent shouldn't mean you have to sacrifice style.
More posts you might like:
What nursery theme did you choose? Gender-neutral? Woodland? Disney? We'd love to hear! Drop a comment below👇🏻
Stay in the know
Sign up to get sleep tips, exciting product updates, and special offers right into your inbox.