How is Cradlewise keeping my baby safe? 
By
Bharath and Radhika, co-founders of Cradlewise
At Cradlewise, our goal is to help your baby get the most amount of sleep in the safest way possible. We spent four years perfecting the safety mechanisms and certifications for Cradlewise, and to date, babies have slept safely for 300,000 hours (and counting!). We've left no stone unturned when it comes to your baby's health and wellness.
And we're committed to improving sleep not just for your child but for your entire family to thrive. Sleep doesn't just feel good in the moment: Proper rest brings with it a slew of benefits that affect many areas of our lives.
Read on to learn more not only about Cradlewise's certifications but also how we've kept your baby's safety at the forefront during each phase of the design process.
What safety certifications does Cradlewise have?
We've done extensive testing, and the crib meets all U.S. Consumer Product Safety Corporation safety standards for bassinets, non-full-size baby cribs/play yards, and crib mattresses. The CPSC seeks to protect and inform the public against unreasonable risks of injury, death, or illness from consumer products.
The U.S. Consumer Product Safety Commission is an independent agency of the United States government. The CPSC seeks to promote the safety of consumer products by addressing "unreasonable risks" of injury, developing uniform safety standards, and conducting research into product-related illness and injury. Our crib meets all CPSC standards.
Our crib is certified by JPMA. The JPMA Certification Seal signifies a product that meets additional safety requirements. To become certified, each product is sample-tested at an independent laboratory to verify it meets the highest standards for safety.
Every material used in the crib is tested as per CP-65 California guidelines. The crib is lead, phthalate and BPA-free, making it safe for toddlers, as they often chew on crib railings. Our crib has been screened for approximately 900 chemicals as required by CA Prop 65.
We're GREENGUARD Gold Certified, ensuring Cradlewise is clear of 10,000 chemicals and volatile organic compounds (VOCs) commonly known to pollute indoor air.

Our cradle has been tested and scientifically proven to be free of VOCs and off-gasses, contributing to cleaner indoor air for your family. It is especially important as babies breathe faster than adults and tend to spend most of their time indoors.
Reimagining a classic design
We knew we wanted to use the latest technology to create a sleep companion for babies that grows with them right from the day they are born to toddlerhood. But we'd have to innovate on the standard crib, which hasn't changed much in decades.
Our aim was simple: How can we make our crib feel warm and welcoming and enable it to have a bouncing mechanism, while also creating a product that's safe and one that we'd happily use for our own kids? Here at Cradlewise, we love a challenge.
Auto-soothing bounce + your baby's safety
Our challenge was to reinvent the wheel, and the solution was our patented noiseless bouncing mechanism. We spent four years perfecting the bounce. The mechanism ensures that the crib moves only in the vertical axis and there is no lateral movement that would cause the baby to topple over.
Gentle bouncing is safe and practiced by parents worldwide. Cradlewise mimics these practices by bouncing up and down and then stopping movement once your baby settles and stops crying. This approach may be more intuitive than side-to-side rocking that lasts all night, as it more closely resembles the motion babies likely would have experienced while curled up in the womb.
– Dr. Anoop Rao MD, Cradlewise Medical Advisor and Neonatologist at the Lucile Packard Children's Hospital at Stanford.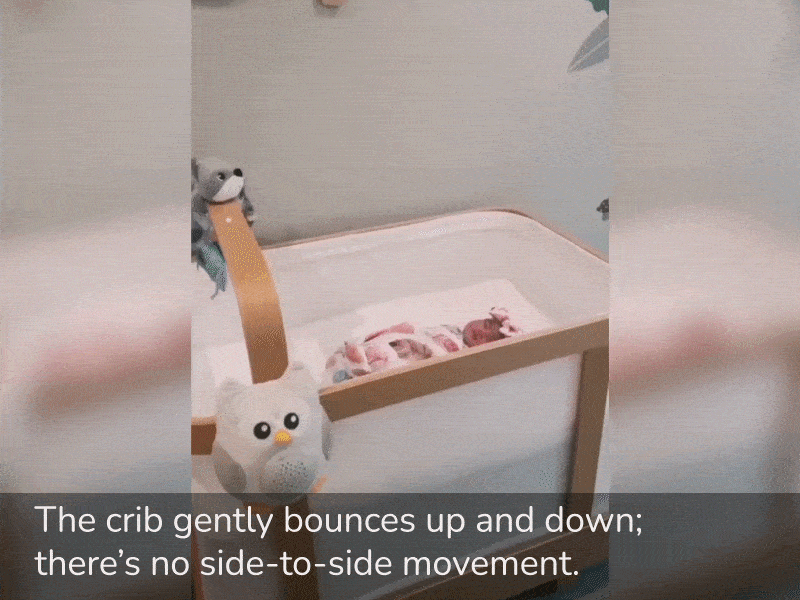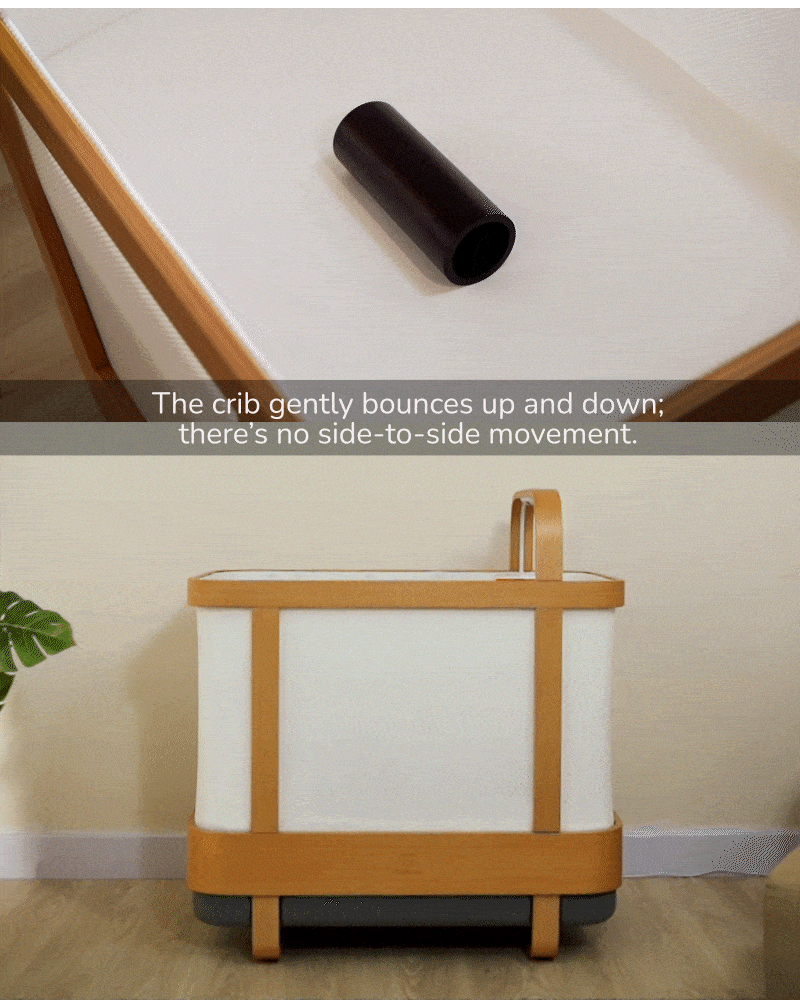 Why are there no swaddles or restraints?
Many ask us why we don't have a built-in swaddle. The answer is simple: Some babies don't like swaddles, even as newborns, and for the ones that do, they have to stop using them once they show any signs of trying to roll over (which can happen as early as two to three months).
The American Academy of Pediatrics (AAP) recommends babies sleep on a firm, flat surface and that the crib is free of any additional objects, which is exactly what you'll find with Cradlewise.
Simple interior, thoughtful design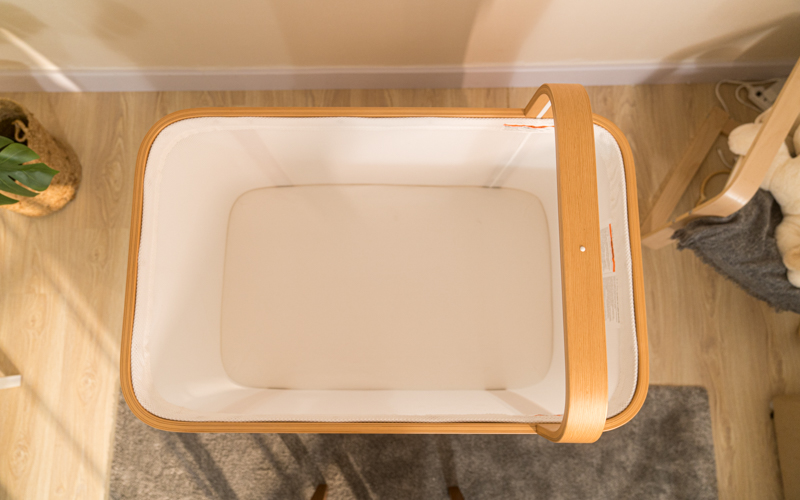 The inside of the crib is kept intentionally clean and simple. Here are some key facts about the interior:
There's no risk of entrapment. The gap between the monitor arc and the top rail has been designed to be wide enough so that a baby can't wedge their head between them and get stuck.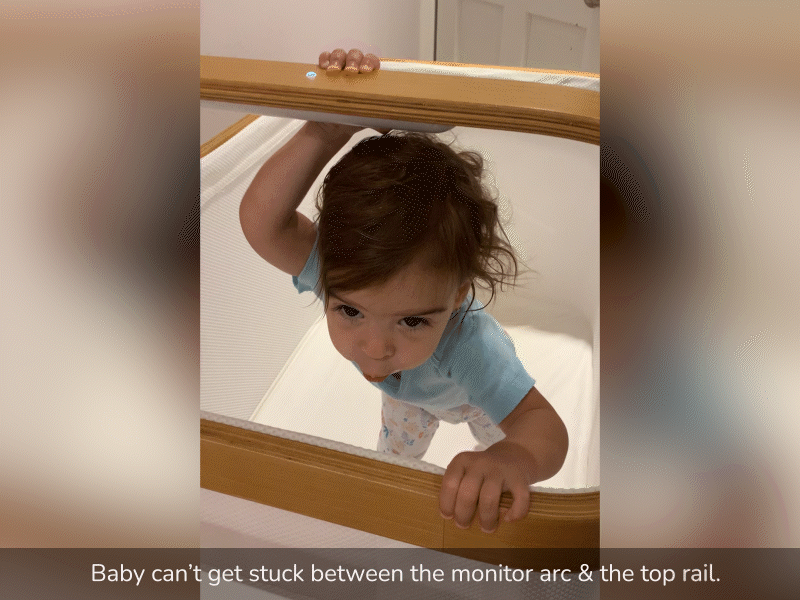 Escape artists are deterred. The height of the crib from the top of the bed to the top rail is designed to comply with safety guidelines so that babies cannot climb out easily.

Mesh sides are airy and breathable. The mesh allows for plenty of ventilation for the baby in the crib. It's also easy to remove and can be machine-washed.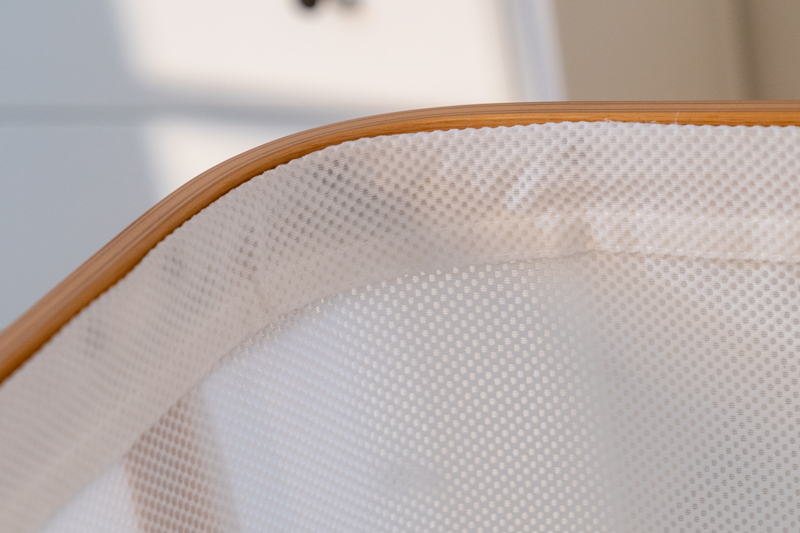 Curves protect against bumps. All the wooden pieces have rounded corners, and the edges are also beveled smoothly to ensure they are safe for babies and toddlers.
Toddler and pet-friendly exteriors
At Cradlewise, we wanted to raise the bar on safety and shift our focus not just to the baby, but to the entire family as well. What if a toddler sibling wedges their finger inside? Or your cat's tail gets caught? Other manufacturers might not worry about this, but we do.
Obviously, we love our bouncing mechanism—it's our secret sauce that keeps babies sleeping peacefully. That said, we've scrutinized even the smallest details so you can rest easy knowing your baby is safe.
Moving exteriors are carefully designed. Because of the bouncing, there are always going to be small gaps in the wood, but ours are tiny enough that there's no risk of little fingers getting pinched.
Tiny gaps stay that way. Even as the crib experiences wear and tear over time, we've ensured there's no risk of the spaces growing larger.
There's no risk of entrapment. The distance between the crib and the floor is just over 3 inches—much too small for your little one to crawl under. But there is enough room for you to do a quick pass with a broom or small vacuum for cleaning.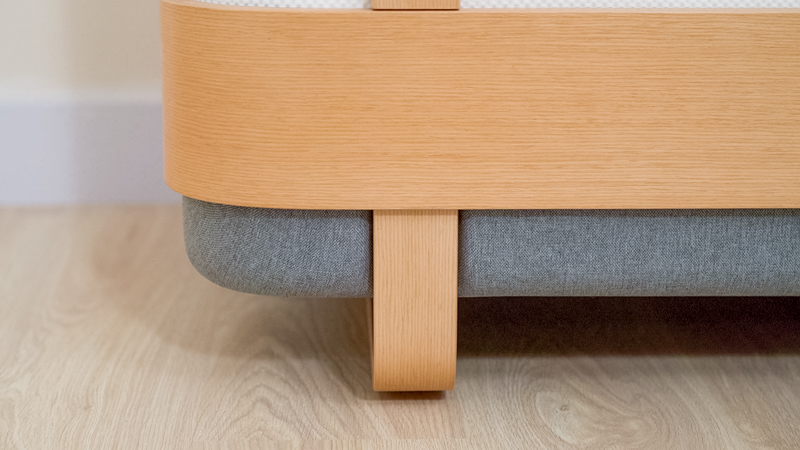 Defining "firm and flat"
You may have heard this advice on repeat: "Babies need to sleep on their backs on a firm and flat surface." But the definitions of what "firm" and "flat" mean are ambiguous, at least in the United States.
Fortunately, Australia and New Zealand seem to have figured this out. Although we do not have the official certification, we designed the mattresses according to the criteria defined by Australia Standards, which is the country's leading nonprofit safety standards organization.
Mattress thickness and other bedding components
There are two main types of cribs—rigid cribs and non-rigid cribs. Rigid cribs have slats on the sides, and non-rigid cribs have sides made of cloth or another pliable fabric.
As per the Consumer Product Safety Corporation safety standard for cribs, Cradlewise is classified as a non-rigid crib because it has mesh sides.
According to safety guidelines, mattresses for non-rigid cribs need to be firm, flat, and less than 1.5 inches thick (including the mattress pad). This acts as a safeguard so that babies can't wedge themselves between the bedding and the mesh.
We designed the mattress with your baby's comfort in mind, making it soft enough that as they grow and become active toddlers, they can jump on it without getting injured.
Breaking it down, layer by layer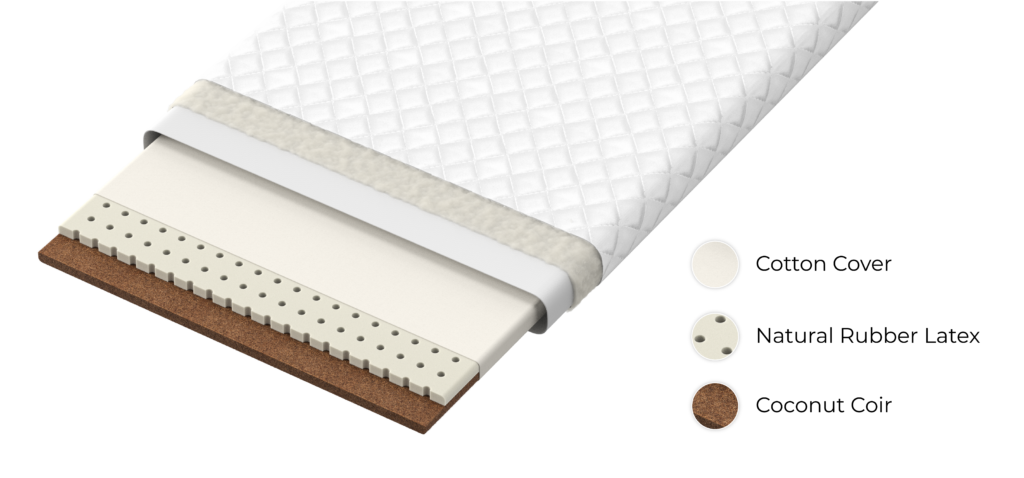 Backing made from ABS. We use a backing made from ABS (a type of plastic) in the bottommost layer, which helps keep the mattress flat. The next layer consists of coconut coir, which offers cushioning against impact, as do the springs in the bounce mechanism (remember the jumpy toddler?).

The next layer consists of natural latex. It's just 10 millimeters thick, but it gives just the right amount of comfort without compromising firmness.

We've also maximized the use of natural materials to guarantee that there are no harmful volatile organic compounds (VOCs) for your baby. VOCs are potentially harmful gases emitted into the air by certain products.
Night vision and Wi-Fi
The crib uses infrared light to monitor your baby. Night vision cameras have been used for decades and are not considered harmful because the infrared levels are so low. (Consider that sunlight has 500 times more!)
EMF levels
The crib also uses Wi-Fi, so you might be wondering about the EMF levels.
The Wi-Fi power is 10 times lower than an iPhone. Your phone emits 320mW; Cradlewise emits 31mW in bassinet mode, and even less in crib mode, since your baby is farther from the access point.
Our Wi-Fi is located within the monitor arc, as far away as it can get from your little one. In contrast, other smart bassinets have Wi-Fi inside the crib, directly under the baby.

To learn even more about our best practices and read all the warnings associated with the crib, we recommend you consult the user manual.
Bottom line
​​We are engineers but our most important job will always be mom and dad. And as we raised our two kids, we have learned a lot about both parenthood and technology. Cradlewise is a result of the tech know-how and our love and concern for the safety of our kids, and everything that we learned while raising them. It's a helping hand created by parents, for parents.