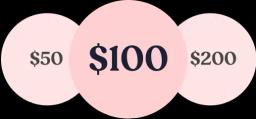 Every amount helps
Available in a range of prices, Cradlewise gift cards are a great way for the people in your life to contribute to your new smart crib.

Keep it simple
Whereas "group gifting" can require people to discuss who is paying what, Cradlewise gift cards can be purchased independently.

Loved ones can
feel involved
Preparing to welcome a new baby is an exciting time for all. Sharing details about Cradlewise can help friends and family members feel involved.